VINTAGE SYNHESIZERS FOR SALE
for more photos or other information please contact me: info@vintagesynthparts.com
---
ELKA SYNTHEX
The Synthex is a very lush sounding classic analog 8 voice synthesizer.
It has 30 knobs, 6 sliders, 80 switches and a joystick
---
OBERHEIM OB-8
The OB-8 is a very warm and rich sounding eight voice polyphonic synthesizer with that classic Oberheim sound.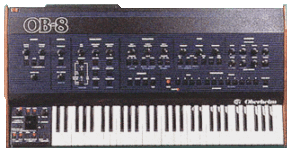 ---
ROLAND MC-202  -SOLD-
(MicroComposer) is a monophonic analog synthesizer/sequencer released by Roland in 1983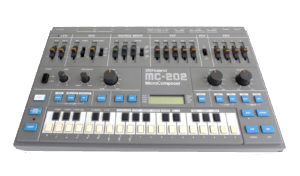 ---
ROLAND SH-101
is very cool, especially for techno, drum&bass and ACID! It's a monophonic bass synthesizer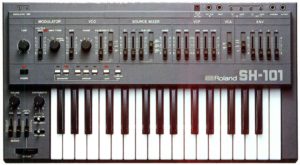 ---
KORG POLYSIX  -SOLD-
warm-sounding real analog oscillators 32 memory patches, 6 voices of polyphony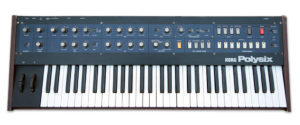 ---
ROLAND SUPER JX-10
Two DCO's per voice, two ADSR envelope generators per voice, and a resonant lowpass & non-resonant highpass filters are only the beginning. It has a 12 voice polyphony for a total of 24 oscillators

---
ROLAND JUNO-6  -SOLD-
the first in a series of amazingly affordable quality synthesizers from Roland's amazing Juno family!
---
ROLAND JD-800
The JD-800 is Roland's answer to half a decade of hard-to-program synthesizers. Covered in sliders that act as dedicated editors just like a classic analog synth, the JD-800 is an extremely programmable and hands-on digital synthesizer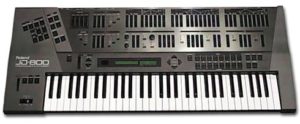 ---
SIEL OPERA-6
is a classic, early eighties analog 6-voice polyphonic synthesizer that was in the same class as the Roland Juno series. This is the version with Midi and patch saving

---
KORG POLY-61  -SOLD-
was released in 1982 as the successor to the Polysix. It was somewhat of a step up
from the Polysix, as it has 2 DCOs for better reliability

---
ROLAND D-50
is an all-time favorite digital synth that's still just as popular today as when it first came out in '87

---
ROLAND MKS-70  -SOLD–
The MKS-70 is an identical rackmount version of the JX-10 synthesizer, an outstanding warm and analog sound

---
SIEL CRUISE  -SOLD-
was a synthesizer released in 1981 by the Italian Organ makers at Siel to the Italian and European markets

---
CRUMAR BIT ONE
The Bit One is a 6 voice programmable polyphonic analog synthesizer with digital control,The 61-note keyboard is equipped with velocity which is a rare option among similar synths

---
KORG WAVESTATION A/D
It has the 4MB of advanced Vector Synthesis and Wave Sequencing synthesis and editing capabilities. The A/D also has a joystick controller to aid editing the Vectors. A new feature is a stereo analog input for filtering and modulating any external audio sources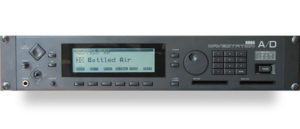 ---
WALDORF MICROWAVE  1 REV. B
The Microwave was built upon what was the PPG Wave. A digital/analog hybrid in which digitally sampled wavetables are processed through analog VCA envelope and VCF (filter) sections producing a classic and warm yet highly complex sound

---
ROLAND D-550
The D-550 is an all-time favorite digital synth that's still just as popular today as when it first came out in '87. Once Roland's hottest digital synth, it competed against the Yamaha DX7, and was much easier to use

---
SELL YOUR BROKEN SYNTHESIZER
Vintage Synth Parts is always interested in non-working keyboards. If you have one you would like to recycle, please email me, i am interested only in professional keyboards and i don't buy consumer keyboards (Casio, Technics, pretty much anything with built-in speakers).
You can contact me at: info@vintagesynthparts.com